Take Advantage of This Month's Current Offers
Ford Blue Advantage: Confidence at Every Turn
Experience the benefits of Ford Blue Advantage! Each Ford Blue Advantage vehicle features a limited warranty, multi-point inspection, 24/7 roadside assistance, and FordPass™ Rewards Points.
We're Here For You
D'Orazio Ford always puts customers first!
Don't take our word for it: Read our reviews and see what everyone is saying.
D'Orazio Ford is great! I really wasn't sure if I wanted a truck or the Mach-E. Christian C. was super helpful and knowledgeable. Provided excellent service! Definitely will be coming back for my next vehicle.
I contacted the dealer looking to purchase a second hand car but the salesman quickly identified the model they had was not what I was looking for and was very upfront about it. He then suggested new and with so many dealers putting mark ups over MSRP I was sure I couldn't afford it but the salesman, Christian, assured me that D'Orazio doesn't do that. Within a short time we had done a deal and I was on my way to collect the vehicle. When I got there the vehicle was even better than I hoped and the great service continued with a friendly tour of the car and an easy and quick processing of the paperwork. Highly recommend this dealer
That was my 1st time at that dealership and was very surprised because the car I purchased (which I love) and the great salesman Bryon worked with the manager and gave me the deal I wanted. I was expecting to walk out with no car but am very happy that I drove home per say with a new car. I am very happy I found D'Orazio dealership and would not hesitate telling anyone who is interested in a Ford.
Excellent sales man, gave me a great deal and what I knew my trade in was worth!! Cameron Lovell came to my house to help me set everything up via my phone and made it all so easy 👍🏻😊 I love my Ford's and never could have been more happy with my whole experience 👍🏻👍🏻👍🏻
My experience at D'Orazio Ford, was beyond my expectations. I had dealt with 3 different car dealers prior to going to D'Orazio Ford, and I wish I had gone to them first! I was completely taken aback, by their honest, no hassle approach. These guys are so down to earth, and just all around great, family oriented people. You'll be treated with respect and they'll go the extra mile to customize a deal, to fit your needs. Stop in and ask for Justin or Christian, you won't regret it! D'Orazio Ford sets the industry standard in Customer Service!
Staff listened to what I asked for. Gabe reached out to us with no pressure to feel obligated to purchase.
Friendly staff, knowledgeable about their products. Clean facilities, close location. Good selection on site, with the ability to procure your selection if not available on site.
Everyone was so friendly and they even let our dog into the showroom! They did everything they could to make us a deal we couldn't refuse. They were close by.
In and out through the whole experience. Team was very helpful and knew there stuff. Got me the best deal out there, and were very helpful. If you want a new car, go see the team at D'Orazio Ford
Smooth from start to finish, no surprises, great service. I would recommend them to friends and family for service and care.
Always feel like I'm being spoiled.Never have to wait to get an appointment and always gives me a ride home while they work on my vehicle.
Made me feel comfortable, Devan made sure I was kept up to date on the progress of their work. Thank you.
This dealership was recommended by a friend. I traded in my Ford F-150 and bought a new one. Gave me an exceptional trade in value and within a couple of hours I purchased a new truck. One of the best purchasing experience I've ever had. The sales staff and general manager really served me without any pressure you sometimes get at other dealers.
I was very pleased to find a sales rep who really cared about your needs,in all the who sales force was wonderful and very helpful.Thanks,the world is much better with caring people like all of you,thanks to Jason G,may you be blessed with many new accounts and extended friends with referrals.
I wanted to buy local and was happy that I could. They made it easy and beat other dealers prices. I like the local servicing as well.
I had a warranty with Tyson Dodge where I got my car from so I was forced to get my car serviced there (I highly advise not going there) once my warranty was up I started taking my car to D'Orazio for oil changes, they have an awesome rewards program and are more than willing to help in anyway possible. Today Dave from the service department was able to help me fix a problem I have been having with a loose sway bar link for a very low price. They also checked out other concerns I had and gave me prices for everything WITHOUT pressuring me to get it done today. He went over everything with me before I picked up my car and everything was done in a timely fashion. I am always impressed with the service department when I go there and appreciate the vehicle report cards.
This dealership makes you feel like family as soon as you walk in the door. EVERYONE there is extremely nice, not pushy but very helpful. I was looking for a certain vehicle to buy & they went above & beyond to find it for me. They also managed to find it in another state, go get it, & bring it back to their dealership for me to buy & all of this they accomplished in 12 days from the time i contacted them!! They have been off the charts with their commitment & dedication! I got the perfect car for less than ANY other dealership was listing them. I truly recommend everyone out there to buy from them, you wont be sorry!
I've been thinking new car for a awhile and waiting for the best time for me to buy. The team at D'Orazio Ford has been helpful and patient with my endless questions. Over the weekend I had them run the numbers and see what they could do for me. Not only did I get a new car, 2016 Escape, I got a deal that lowered my previous car payment and saved me money on my insurance too. Anyone who complains about the car buying experience hasn't been to D'Orazio Ford. Nice job guys!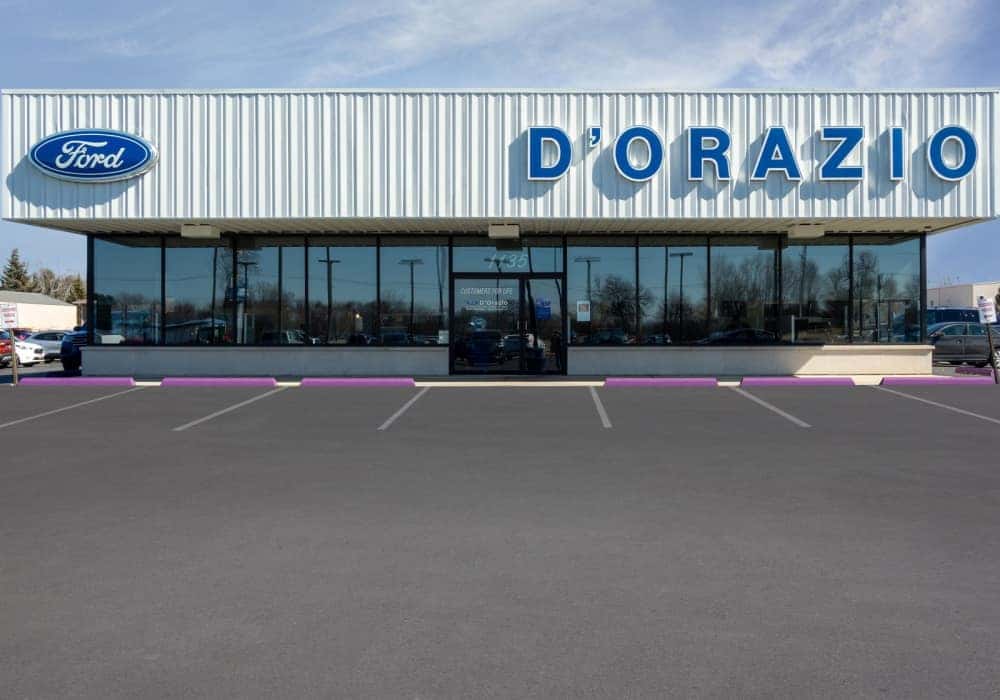 Get Directions To Our Dealership
Welcome to D'Orazio Ford
"January 2012 was momentous for me, as I fulfilled my lifelong dream of owning a car dealership. It was the day the D'Orazio Ford was founded." – Roger D'Orazio
Roger's vision for D'Orazio Ford is a dealership run on family principles with opportunities for all…to create customers for life!
Hit the Road
Use our convenient online form to schedule your next test drive. Receive a first-class experience from one of our exclusive test drive staff members.
Join Our Team
Are you an expert? Whether it's sales or service, there might be a perfect fit for you on our team. Fill out our quick form to be considered.
Contact Us