Ford Bronco 2020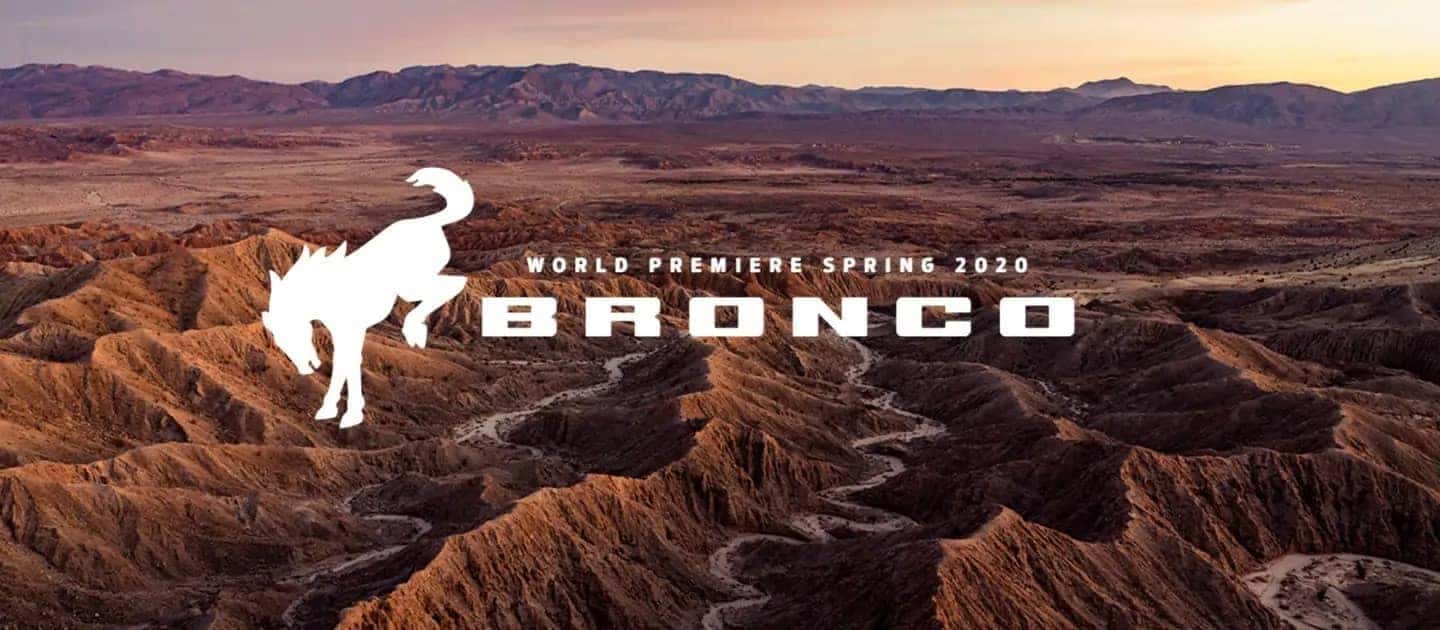 Back by popular demand, a new generation Ford Bronco is coming soon and the anticipation is building. The Bronco came out in the mid-sixties and was a hit for over the following 30 years. It was a sad day in 1996 when the Bronco stopped production, but it is making a comeback in 2020. Want to learn more about the Bronco? Read on below! If you want to test drive this beast, or any new Ford models, come see us at Dorazio Ford in Wilmington or view our inventory here online!
About the Bronco
Let's give you a full scope of the Bronco. It's a midsize SUV, has a signature boxy exterior and circular headlights. It is created to take on adventures; therefore it is especially loved by off-roading enthusiasts. The Bronco offers removable roof and doors and is a strong competitor against the Jeep Wrangler. Unlike the most current Jeep Wrangler model, the 2021 Ford Bronco offers a more modern and lighter engine that still packs the punch you would expect from an off-roading SUV.
What we know about the future Ford Bronco
The Ford Bronco is similar to its pickup truck cousin, the Ford Ranger. The probable base engine is the 2.3-liter turbo-four which is the same as the Ranger. The base engine will generate 270 horsepower and 310 lb-ft of torque.
It is likely that a 10-speed automatic will be the only transmission option but as of this writing there is a huge rumour that there may be a seven-speed manual transmission offered. The torque produced by a seven-speed manual will go up to 405 lb-ft. A manual transmission also means that it will be paired with more powerful engines. It should be expected that there will be one EcoBoost engine offered.
We should see a drive mode selector be a part of the new Bronco which will have settings to take on different road conditions.
In other Bronco news, there is talk about a Bronco Hybrid and a baby Bronco being released. The baby Bronco will obviously be a smaller version of the Bronco and is said to be similar to the Ford Escape.
Come visit D'Orazio Ford for your Bronco or new Ford!
When purchasing a new vehicle, trust plays a major role. You want to trust that the vehicle you are purchasing will be reliable, pairs well with your lifestyle and something you ultimately enjoy to drive. You also want to trust that the people you are doing business with have your best intentions in mind, are experts in what they do and have integrity.
D'Orazio Ford in Wilmington is the dealership for you. The team here are experts, truly care about you, and will treat you with the phenomenal customer service that you deserve. Come in today to experience a different type of dealership.
Give us a call at (815) 205-6492 if you want to stay up-to-date with the latest information on the future Broncos and Ford vehicles. Come to our showroom located at 1135 S Water Street in Wilmington. As soon as you walk through our doors, you will be met by one of our friendly team members and then on your way to picking out that exciting new vehicle.